Our cleanses are specifically designed to flood your body with maximum nutrition. Offered daily in our grab 'n' go fridge (while supplies last) or reserve yours in advance.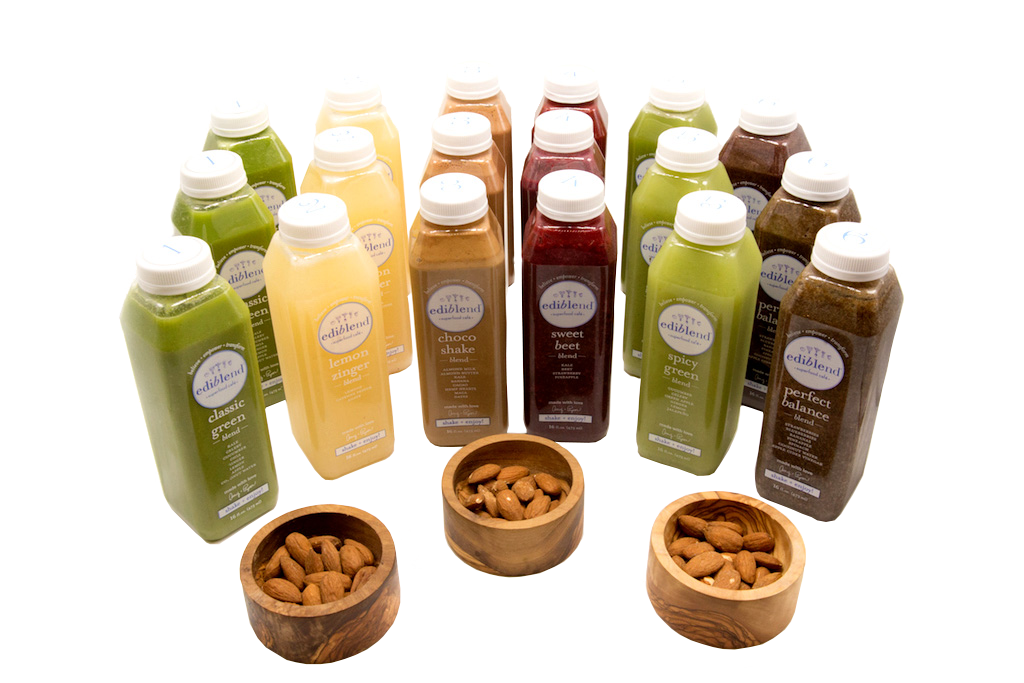 cleanse FAQs
We've designed our nutrient-dense blends to kick-start, renew and rejuvenate your whole body.  Unlike most cleanses where you end up feeling deprived and hungry, we've hand-crafted our blends with fresh, plant-based whole food that will flood your body, sustain you through your day and restore your best self.  Our blend cleanses utilize entire fruits and vegetables, ensuring your body receives maximum health benefits.
What are the different types of cleanses offered?
1 day kick-start cleanse $45
A full day's nutrition conveniently packaged and perfectly formulated to reset and jumpstart your system to a healthy lifestyle.  Available in our grab n' go fridge.
3 day kick-start cleanse $150
Purposefully created to help eliminate cravings, rejuvenate your body and empower you to make healthier eating choices.  All three days conveniently packaged together and available in our grab n' go fridge.
Build a custom cleanse
Customize your own cleanse to satisfy your own preferences.  Recommendations can be found in the grab n' go fridge.  Choose your six blends and enjoy!  Priced individually.
Why are so many people raving about ediblend cleanses?
Our kick-start cleanses are:
Fueled by the freshest, nutrient-dense superfood available.
All plant-based, gluten free, soy free, dairy free, preservative free with no added sugars or artificial preservatives.
A natural nutrient flood to your body. (approximately 15 lbs. of fresh fruits and vegetables is included in our 3 day cleanse)
A path to healthier eating habits, less sugar and processed food cravings.
Designed to reset, rejuvenate and recharge by flushing out toxins and training your body to crave a healthier lifestyle.
How do I prepare for my cleanse?
Hydrate (drink 1/2 your body weight in ounces of water daily).
Increase your fruit and vegetable intake.
Cut back on caffeine to curb any headaches that may occur.
Cut back or eliminate alcohol.
Purchase a dry skin brush, epsom salt with lavender and green tea. 
What can I expect after my kick-start cleanse?
A path to healthier eating habits
Less sugar and processed food cravings
Increased energy levels
Clearer skin
Mental clarity
Possible weight loss
*Results may vary by person. One thing is certain: You will be healthier than when you started and your mind and body will thank you.  There is nothing to be afraid of – it's simply fruits and vegetables, people!!
What can I do to have the most successful cleanse?
Shake your blends prior to consuming (natural settling occurs due to the fact we use only fresh fruits and vegetables.)
Keep refrigerated.
Drink water between blends.
Optional: start your day with a green tea, dry brush your body each morning (or before you shower)

 

to shed dead skin cells and end your day with an epsom salt bath.
Can I substitute certain blends in the 3-Day cleanse for other blends I prefer?
If you need to substitute a blend or 2 because of personal preference or allegies, please call the café to build a Custom Cleanse.
May I pick up my kick-start cleanse before 7:30 AM?
Yes.  If you call the café 24 hours in advance to alert them that you need an early kick-start cleanse pick-up, we can make arrangements to have it ready by 6:30 AM. Be sure to leave your name and number in the event we need to call you back.
What if I get hungry during the kick-start cleanse?
The point of our kick-start cleanse is to flood your body with nutrients, not starve you!  So, if you find yourself feeling hungry after drinking your six blends for the day, feel free to eat any raw fruit or vegetable.
What if I need to cancel my kick-start cleanse?
Please notify the café 24 hours in advance.
Do you add any dairy, sugar or any artificial sweeteners?
We do not add any dairy, yogurts, ice creams, or any other processed junk at all!
Can I do the kick-start cleanse if I am pregnant or breast-feeding?
Remember that our kick-start is simply putting a ton of plant-based food into your system for maximal nutrition.  Please review the list of ingredients and total calories for the kick-start cleanse to decide for yourself if this would be right for you.
Once I complete my kick-start cleanse, what are my next steps?
Congratulations!  You did it!  Just like you prepared for your kick-start cleanse, we recommend you try to stick with a plant-based diet of fruits and vegetables.  We suggest you avoid meat, poultry, refined carbohydrates and processed foods for as long as possible. Dairy should be consumed at a minimum if possible as it has been shown to be inflammatory to your system.  You worked hard to reset your body, so reward yourself by continuing to make mindful choices. We have a full menu loaded with whole-food, plant-based yummy selections that will help you resist falling back into the processed food rut.
What are some resources to help me on this whole food plant-based journey?
We've done the research in plant-based eating and want to empower you with the same knowledge. Here are some resources you might find helpful:
Please visit our cafes to see the wide selection of cookbooks we have that are loaded with amazing recipes and ideas!